Visit safely during pandemic

We do our best to make everyone feel safe in our events. Let's take care of each other by washing and disinfecting our hands. We have face masks for everyone and we recommend using them by setting an example yourself. In our spacious halls, visitors can distance safely from each others. This year, we will not shake hands.
Each member company of The Association of Trade Fair and Event Organisers follows the guidelines as comprehensively as possible and in accordance with its own premises and events. Exhibition centers and other similar facilities where exhibitions are arranged are already inherently large in size and have been built specifically for large public events. For this reason, their level of hygiene is already high. During a pandemic, the safety at events will be increased by the following measures:

Hand disinfection
Hand disinfectant points are placed e.g. at entrances, in halls and spaces between halls. Additionally, hand disinfectant is available in all toilets.
Face masks
Face masks are available at exhibition entrances. The usage of face masks is in compliance with authorities' recommendations. At the moment the usage of mask is strongly recommended.
Sanitary facilities
There are plenty of toilets in the exhibition centers and other premises where exhibitions are organized. Toilets are cleaned and disinfected several times during the day (toilet seats, washbasins, taps). Hand disinfectant and soap are available at all times in the premises.
Public areas
Public areas are cleaned several times during the day. For instance, service desks, cloakroom desks, gates, keyboards for ATMs and parking ticket automates are regularly disinfected.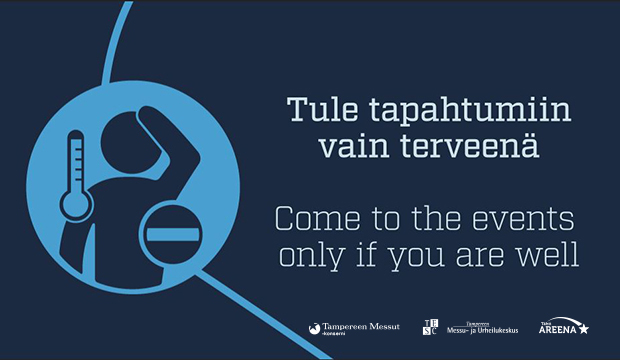 Restaurants and cafés
Restaurants and cafés strictly follow the recommendations issued by the authorities for restaurant and café operations.
Instructions for visitors
At entrance areas visitors are reminded that they can visit the exhibition only if they are completely free of symptoms. Public areas have clearly marked hand washing instructions, reminders regarding coughing and sneezing etiquette and avoiding shaking hands. This is done with bilingual signboards and videos. Guidance on how to visit exhibitions safely is available not only on the exhibition premises but also on the exhibition organizer's web pages and social media channels, so visitors can get acquainted with them in advance. The exhibition areas have enough staff to guide visitors.

Electronic transaction
Clients are instructed to make transactions electronically. Public exhibition tickets can be purchased in advance online and registration to professional events can be also be done online in advance.
Managing visitors
The exhibition organiser regulates the number of persons inside at the same time in accordance with the regulations of authorities. The number of entering visitors can be spread over and visiting time can be limited if necessary. How visitors are spread in the halls will be monitored utilizing existing video surveillance equipment and with the help of exhibition staff circulating the premises. If necessary, risk groups can be offered own visiting hours.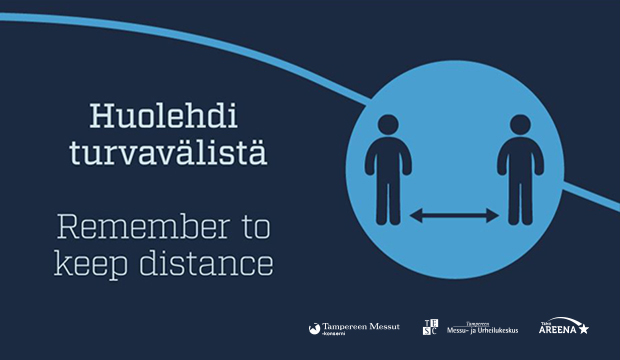 Elevators
In front of elevators there are information signs showing the number of persons allowed in the elevator at the same time. It is, depending on the size of the elevator, 1 or 2 persons at the same time. As an alternative to using the elevator, it is possible to use the stairs. Stair railings are cleaned more intensely.
First Aid staff
The exhibitions have a First Aid point with staff that knows how to act if someone at the event suspects that they have been infected with the Covid-19 virus.
Protecting staff
Cloakrooms and service desks should have transparent plexiglases if possible. Face masks are available for staff and they have the possibility to disinfect their hands.